实际上,这是老外最新发布的贴子关于如何薅Facebook广告的教程,教程原文如下:
大家可以自行翻译成英文后测试,这个应该还是蛮靠谱的。
New Instagram & Facebook & Twitter Ads Bin
STEP 1:
First you have many old Facebook accounts required for this Trick
Step 2: 
You can use cloning accounts but cloning accounts must b minimum 8 month old then this trick will
Step 3:
Now If You Are Android User Well Download The FB Lite From Play store Or
If You Are Iphone User Then Download FB Lite Official From App Store.
Step 4:
Now Open Your FB Lite And Login Your Old Facebook account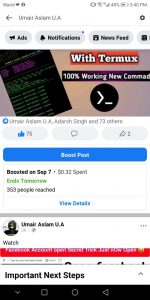 NOTE: ( Don't Use your Personal account for this purpose)
Step 5:
When You Successfully Login Clone Facebook Account In FB Lite.
Now You Need To Do Create A New Page Page With Unique Name Example ( Umair Aslam A.A.A ,, Haider Umair Tricker H.A.T ,,, Tech Umair B.W.G Etcc ).
Step 6:
Now Must Be Added Any Website Or Youtube Video Link In Page.
Then Next Must Be Upload Dp or Cp ( Disply Picture Or Cover Picture ).
All Done Your Page Created. Now Add Sms Botton Or Contact Botton Etc.
Now Which One Post You Want To Boost Just Upload 3 Times..
Please Note Your Post , Picture , Link , Or Video , Must Unique Thats Never Be Use In Boosting.
Step 7:
When You Upload 3 Times Now Simply Like The Page And Like
All Posts Any Select Anyone 1 Posts And Share In Id Timeline Or Any Two Groups.
Step 8:
Now Go to the Promote Button and select website visitors & accept Facebook Agreements
Now Go To Payment Added  And Select Country United State.
Now In Last I Will Give You The Bin Of Facebook. Just Copy The Bin And Generate It.
You Know That How To Genrate And Getting Live Credit Cards If Can't Then Comments Us We Will Making Tutorial About It.
Step 9:
Now add the card Details and enter the zip code then click on save button
then wait for few seconds you card has been added Successfully Saved.
Step 10:
Now Simply Off The FB Lite And Wait Minimum 8 To 9 Hours And Maximum Depend On You.
After Wait 9 Hours Open The FB Lite Go To Page And Select Any One Post In 3 Posts.
Then Click On Boost All Done Your Boosting Done And Active In 1 Hours
Spending Limit Must Be Set 25$ For 5 Days.. Done Now Your Boost Will Run 10$ For Days.
Please Note That Do All Process In Your Smart Phone Not From Laptop Or Pc. No Need To Use Any Vpn Or Rd